No watches are valid as of Thu Mar 23 10:55:01 UTC 2017.No Mesoscale Discussions are in effect as of Thu Mar 23 10:55:01 UTC 2017.SPC 0730Z Day 3 Outlook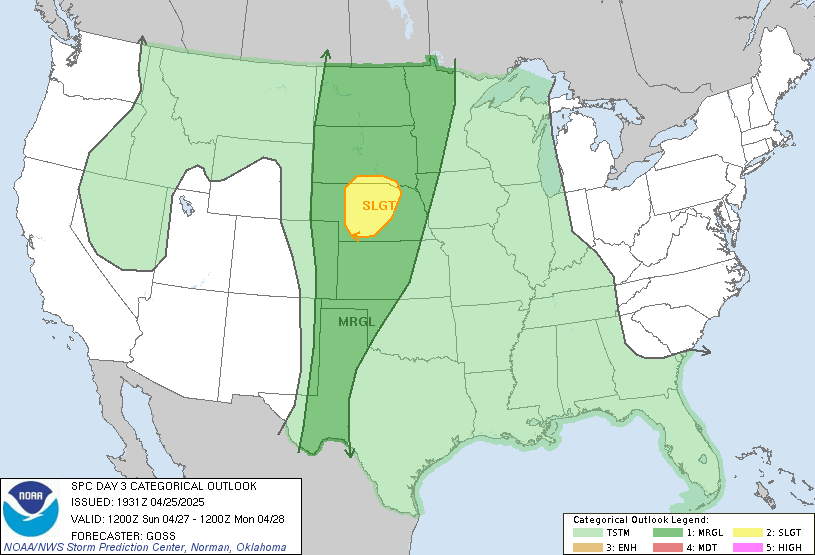 Day 3 Convective Outlook  
NWS Storm Prediction Center Norman OK
0228 AM CDT Thu Mar 23 2017

Valid 251200Z - 261200Z

...THERE IS A SLIGHT RISK OF SEVERE THUNDERSTORMS ACROSS PARTS OF
THE LOWER MISSISSIPPI VALLEY AND SOUTHEAST...

...THERE IS A MARGINAL RISK OF SEVERE THUNDERSTORMS ACROSS PARTS OF
THE LOWER TO MID MISSISSIPPI VALLEY AND SOUTHEAST...

...SUMMARY...
An isolated severe thunderstorm threat may develop across parts of
the lower to mid Mississippi Valley into the Southeast on Saturday.

...Synopsis...
An upper low over eastern KS/western MO will move east-northeastward
across the mid MS Valley Saturday, likely reaching the IL/IN
vicinity by the end of the period. A surface low initially over MO
should develop only slowly northeastward towards IL while undergoing
further weakening. A narrow warm sector, becoming increasingly
confined with northward extent, will exist across parts of the lower
to mid MS Valley and Southeast ahead of an eastward-moving surface
cold front. A high-pressure area over the western Atlantic will act
to limit greater low-level moisture return from the Gulf across GA
and much of FL.

...Lower/Mid MS Valley and Southeast...
A line of thunderstorms will probably be ongoing across the lower MS
Valley Saturday morning along/ahead of a cold front. The evolution
of this line with eastward extent into AL/TN remains uncertain, but
40-55 kt southwesterly mid-level winds associated with the upper low
should overspread the warm sector through Saturday afternoon. In
concert with some diurnal destabilization, these strengthening winds
aloft may allow for the line of convection to continue/intensify as
it moves eastward across parts of the Southeast. Strong to damaging
winds would probably remain the primary risk given the expected
linear mode. Additional convection may form behind the initial line
along the front, although this remains highly uncertain/conditional.
If this activity did form, it would also pose a damaging-wind
threat.

Across western TN into the mid MS Valley, instability will likely
remain limited owing to marginal low-level moisture, but strong
forcing for ascent, cold mid-level temperatures, and strengthening
mid-level winds may allow for some thunderstorm organization ahead
of the upper low across this region. With time, any thunderstorms
that do form/persist will encounter a less-favorable thermodynamic
environment as they move eastward across the mid MS Valley and
Southeast, suggesting a lessening of the overall severe threat with
eastward extent into Saturday evening/night.

..Gleason.. 03/23/2017


Day 4-8 Outlook


Day 4-8 Convective Outlook  
NWS Storm Prediction Center Norman OK
0358 AM CDT Thu Mar 23 2017

Valid 261200Z - 311200Z

...DISCUSSION...
An active severe weather pattern should continue across parts of the
CONUS though the forecast period, although predictability decreases
substantially Day 6/Tuesday and beyond.

...Day 4/Sunday - Day 5/Monday...
An upper trough/low is forecast to move eastward across the
southern/central Plains Day 4/Sunday. Latest model guidance remains
in reasonable agreement with the placement of this trough, and its
corresponding surface low position over western OK and the eastern
TX Panhandle by Sunday evening. The degree and quality of low-level
moisture return across the southern Plains remains the primary
uncertainty for Day 4/Sunday, as convective initiation along a
dryline extending southward from the surface low appears probable.
The deterministic GFS is more aggressive compared to the ECMWF and
many GEFS members regarding greater surface dewpoints across
central/eastern OK into north TX. If future model trends show better
agreement on more substantial low-level moisture return ahead of the
dryline, a greater severe weather risk could develop. For now, have
expanded the 15% risk area eastward to encompass more of eastern OK.

The upper trough will continue eastward across the lower MS Valley
and Southeast on Day 5/Monday. Some disagreement regarding the
strength/amplitude of the trough is evident amongst deterministic
guidance, but they remain in general agreement on the
placement/timing. Enough low-level moisture return should occur
across the lower MS Valley to support surface-based convection.
Although some uncertainty with convective evolution from Day
4/Sunday into Day 5/Monday remains, the overall forecast combination
of instability and shear appears to support a severe weather threat
across parts of the Mid-South and lower MS Valley where models
forecast convection to develop by Monday afternoon. A 15% area has
been included across this region for Day 5/Monday.

...Day 6/Tuesday - Day 8/Thursday...
Model spread increases from Day 6/Tuesday through the remainder of
the extended forecast period. Another western CONUS upper trough/low
should develop eastward across the Southwest/southern High Plains
vicinity on Day 6/Tuesday. However, medium-range model guidance
becomes increasingly dispersive regarding this feature and its
eastward/northeastward ejection across the southern and/or central
Plains. The GFS solution would imply any meaningful severe threat
would remain confined to parts of TX and the lower MS Valley in this
time frame, while the ECMWF suggests the southern/central Plains and
lower to mid MS Valley may have some severe risk. For now, this
disagreement is too substantial to justify the inclusion of 15% risk
areas, although they may be needed in later outlooks pending better
model agreement/consistency.


SPC Day 1 Fire Weather Outlook


Day 1 Fire Weather Outlook  
NWS Storm Prediction Center Norman OK
0253 AM CDT Thu Mar 23 2017

Valid 231200Z - 241200Z

...EXTREMELY CRITICAL FIRE WEATHER AREA FOR PORTIONS OF EASTERN NEW
MEXICO...TRANS-PECOS REGION OF TEXAS...AND SOUTHEAST COLORADO...
...CRITICAL FIRE WEATHER AREA FOR PORTIONS OF WEST TEXAS AND THE
SOUTHERN/CENTRAL HIGH PLAINS...

...Synopsis...
A strong upper trough is expected to move from the Southwest into
the Plains region by Friday morning. As this trough moves eastward,
an associated surface low will deepen across portions of the central
High Plains. A substantial fire weather risk is expected to evolve
as very windy and dry conditions develop behind a dryline across
portions of West Texas into the High Plains.

...West Texas into the Southern/Central High Plains...
An extremely critical fire weather threat is expected this afternoon
from the Trans-Pecos region of TX northward through eastern NM into
southeast CO, as very strong sustained winds increase to 30-40 MPH
behind the dryline as RH values fall into the 6-10% range. The
corridor of extremely critical conditions will be constrained to the
east by the dryline, and to the west by a trailing cold front.
Surrounding the extremely critical area, the critical area will also
be largely constrained by the features mentioned above, with some
extension of critical conditions expected northward into the
Colorado Front Range. Critical conditions will likely develop by
midday and may persist into early evening before the advancing cold
front allows for some RH recovery tonight. 

Some uncertainty remains regarding the eastward movement of the
dryline during the day, so some adjustment to the critical/extreme
delineations will be possible in the Day 1 update based on trends in
observations and short-term guidance. 

...East of the dryline into the southern/central High Plains...
Moisture quality ahead of the dryline is still expected to be rather
poor, given low PW values noted in 00Z soundings along the TX Gulf
Coast. Strong heating/mixing ahead of the dryline will allow RH
values to drop to 25-35%, which combined with strong winds of 25-35
MPH will result in elevated fire weather conditions where dry fuels
are available. 

Additionally, initial convective development in the vicinity of the
dryline late this afternoon will likely produce little wetting
rainfall, given fast storm motions and relatively dry subcloud
layers. The chance for wetting rainfall will increase by evening,
but isolated, mostly dry thunderstorms will be possible in the
21Z-00Z time frame.

..Dean.. 03/23/2017

...Please see www.spc.noaa.gov/fire for graphic product...