WW 161 SEVERE TSTM AR OK TX 261100Z - 261800Z



URGENT - IMMEDIATE BROADCAST REQUESTED
Severe Thunderstorm Watch Number 161
NWS Storm Prediction Center Norman OK
600 AM CDT Wed Apr 26 2017

The NWS Storm Prediction Center has issued a

* Severe Thunderstorm Watch for portions of 
  Western and northern Arkansas
  Southeastern Oklahoma
  North-central and northeast Texas

* Effective this Wednesday morning and afternoon from 600 AM
  until 100 PM CDT.

* Primary threats include...
  Isolated very large hail events to 2 inches in diameter possible
  Isolated damaging wind gusts to 70 mph possible
  A tornado or two possible

SUMMARY...Severe thunderstorms are expected to expand in coverage
and intensify through the remainder of the morning, along and ahead
of a cold front.  Please see SPC mesoscale discussion 558 for
initial meteorological details.

The severe thunderstorm watch area is approximately along and 75
statute miles east and west of a line from 45 miles southeast of
Dallas TX to 20 miles northwest of Flippin AR. For a complete
depiction of the watch see the associated watch outline update
(WOUS64 KWNS WOU1).

PRECAUTIONARY/PREPAREDNESS ACTIONS...

REMEMBER...A Severe Thunderstorm Watch means conditions are
favorable for severe thunderstorms in and close to the watch area.
Persons in these areas should be on the lookout for threatening
weather conditions and listen for later statements and possible
warnings. Severe thunderstorms can and occasionally do produce
tornadoes.

&&

OTHER WATCH INFORMATION...This severe thunderstorm watch replaces
severe thunderstorm watch number 160. Watch number 160 will not
be in effect after 600 AM CDT. 

AVIATION...A few severe thunderstorms with hail surface and aloft to
2 inches. Extreme turbulence and surface wind gusts to 60 knots. A
few cumulonimbi with maximum tops to 550. Mean storm motion vector
24035.

...Edwards


WW 0161 Status Updates



STATUS FOR WATCH 0161 HAS NOT BEEN ISSUED YET

WW 0160 Status Updates



STATUS REPORT ON WW 160

SEVERE WEATHER THREAT CONTINUES RIGHT OF A LINE FROM 15 SSW MKO
TO 15 NW FYV TO 30 S UMN TO 15 NNE UMN TO 35 N SGF.

..BROYLES..04/26/17

ATTN...WFO...TSA...SGF...


STATUS REPORT FOR WS 160 

SEVERE WEATHER THREAT CONTINUES FOR THE FOLLOWING AREAS 

ARC015-033-047-087-131-143-260740-

AR 
.    ARKANSAS COUNTIES INCLUDED ARE

CARROLL              CRAWFORD            FRANKLIN            
MADISON              SEBASTIAN           WASHINGTON          


MOC043-067-077-091-153-209-213-225-260740-

MO 
.    MISSOURI COUNTIES INCLUDED ARE

CHRISTIAN            DOUGLAS             GREENE              
HOWELL               OZARK               STONE               
TANEY                WEBSTER             


OKC001-061-077-079-121-135-260740-

OK 
.    OKLAHOMA COUNTIES INCLUDED ARE

ADAIR                HASKELL             LATIMER             

MD 0558 CONCERNING SEVERE THUNDERSTORM WATCH 160... FOR ARKANSAS...SOUTHEAST OKLAHOMA...NORTHEAST TEXAS



Mesoscale Discussion 0558
NWS Storm Prediction Center Norman OK
0537 AM CDT Wed Apr 26 2017

Areas affected...Arkansas...Southeast Oklahoma...Northeast Texas

Concerning...Severe Thunderstorm Watch 160...

Valid 261037Z - 261230Z

The severe weather threat for Severe Thunderstorm Watch 160
continues.

SUMMARY...The severe threat is expected to continue across parts of
eastern Oklahoma and northwestern Arkansas this morning. Severe
storms may also develop across parts of northeast Texas. WW issuance
will likely be needed across parts of this region over the next
hour.

DISCUSSION...The latest radar analysis shows a developing line of
storms extending from far northwest Arkansas southwestward to near
the Red River in southern Oklahoma. This line of storms is being
supported by forcing along a cold front and lift associated with the
western edge of belt of strong low-level flow. Ahead of the line of
storms, moisture advection and surface heating this morning will
maintain moderate instability across much of the Arklatex. This
combined with large-scale ascent associated with an upper-level
trough moving into the southern Plains will help the line to
gradually become more organized.

Regional WSR-88D VWPs show 0-6 km shear in the 60 to 75 kt range
with substantial directional shear in the lowest 2 km AGL. This
combined with strong forcing should support squall-line development
over the next few hours. Rotating cells associated with isolated
large hail will be possible within the stronger portions of the
line. Wind damage will also be possible with bowing segments that
develop along the leading edge of the line.

..Broyles/Edwards.. 04/26/2017

...Please see www.spc.noaa.gov for graphic product...

ATTN...WFO...LZK...SHV...TSA...FWD...OUN...

LAT...LON   36089369 34139667 32549771 32359581 33139451 34739288
            35759207 36089369 


Public Severe Weather Outlook


PUBLIC SEVERE WEATHER OUTLOOK  
NWS STORM PREDICTION CENTER NORMAN OK
0608 AM CDT WED APR 26 2017

...Severe thunderstorms expected over parts of the lower Mississippi
Valley later today and tonight...

* LOCATIONS...
  Southern Arkansas
  Northern Louisiana
  Far Northeast Texas

* HAZARDS...
  Several tornadoes, a few intense
  Scattered large hail, some baseball size
  Scattered damaging winds

* SUMMARY...
  Severe thunderstorms are expected across the Lower Mississippi
  Valley Wednesday. Tornadoes, large hail, and damaging winds
  should focus from northeast Texas across southern Arkansas and
  northern Louisiana primarily during the afternoon hours.
  Isolated severe thunderstorms may extend as far north as
  Illinois and into the central Gulf States during the overnight
  hours.

Preparedness actions...

Review your severe weather safety procedures for the possibility
of dangerous weather today. Stay tuned to NOAA Weather Radio, 
weather.gov, or other media for watches and warnings. A tornado
watch means that conditions are favorable for tornadoes to form
during the next several hours. If a tornado warning is issued for
your area, move to a place of safety, ideally in a basement or
interior room on the lowest floor of a sturdy building.

&&

SPC 0730Z Day 3 Outlook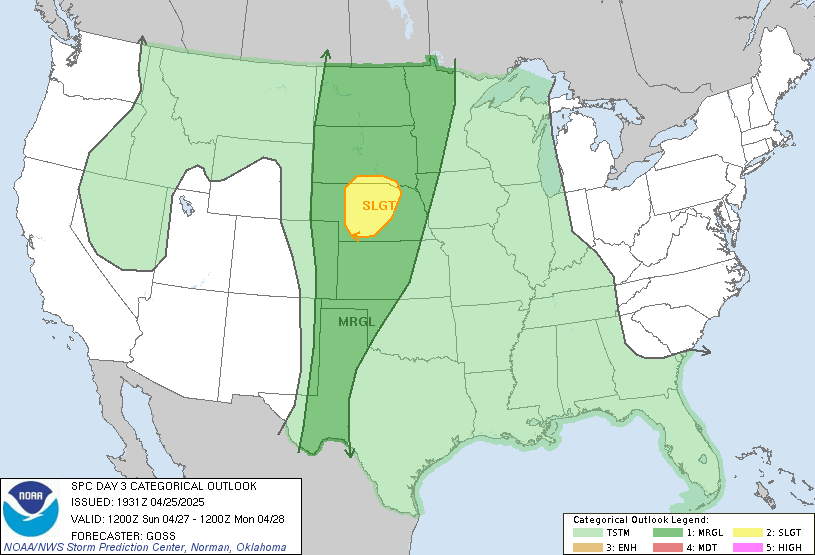 Day 3 Convective Outlook  
NWS Storm Prediction Center Norman OK
0231 AM CDT Wed Apr 26 2017

Valid 281200Z - 291200Z

...THERE IS AN ENHANCED RISK OF SEVERE THUNDERSTORMS FROM OKLAHOMA
INTO THE LOWER TO MIDDLE MISSISSIPPI VALLEY AREAS...

...THERE IS A SLIGHT RISK OF SEVERE THUNDERSTORMS FROM A PORTION OF
THE SOUTHERN PLAINS INTO THE TENNESSEE AND OHIO VALLEYS...

...THERE IS A MARGINAL RISK OF SEVERE THUNDERSTORMS SURROUNDING THE
SLIGHT RISK AREA...

...SUMMARY...
Numerous severe storms remain possible on Friday from a portion of
the southern Plains into the lower to middle Mississippi, Ohio and
Tennessee Valleys.

...Southern Plains through the Tennessee and Ohio Valleys...

Shortwave trough will shift northeast through the OH Valley early
Friday with upstream height rises in wake of this feature from the
southern Plains into the TN Valley. A warm front will develop
northward and by early evening should extend from the southern OH
valley into northern TX or southern OK with a dryline evolving
across west-central into northwest TX where it will intersect the
front. Limited synoptic forcing for ascent and capping due to
eastward expansion of EML may limit thunderstorm initiation during
the day over much of this region. Some chance for initiation will
exist at the intersection of dryline and front over northwest TX by
late afternoon. Large CAPE and strong vertical shear would favor a
conditional risk for supercells with very large hail and a few
tornadoes should such initiation occur. Rich low-level moisture with
large CAPE will reside south of warm/Quasistationary front. The best
chance for more widespread thunderstorm initiation will occur during
the evening into the overnight from OK into northern AR, MO and into
the TN and OH valleys along and north of the warm front as
strengthening, broad low-level jet enhances convergence and
isentropic ascent along and north of this boundary. Strong vertical
shear profiles and instability will support organized storms
including supercells with large hail and damaging wind the main
threats, though a few tornadoes may also occur with surface-based
storms developing closer to the warm front.

..Dial.. 04/26/2017


Day 4-8 Outlook


Day 4-8 Convective Outlook  
NWS Storm Prediction Center Norman OK
0337 AM CDT Wed Apr 26 2017

Valid 291200Z - 041200Z

...DISCUSSION...
Models continue to demonstrate good consistency regarding the
evolution of an upper trough expected to move through the Southern
Plains and MS Valley regions this coming weekend.

Saturday (day 4) - Shortwave trough is expected to amplify over the
southern Rockies and continue east through the southern Plains
accompanied by a strong cold front. Severe storms are expected to
develop along this boundary and progress east through TX and the
lower MS Valley where the atmosphere will be moderately to strongly
unstable.

Sunday (Day 5) - As the trough and its associated cold front
progress eastward, the severe-storm threat will spread into the TN
Valley and Southeast States where favorable vertical shear will
coexist with a moderately unstable warm sector downstream from an
ongoing MCS.

Monday (Day 6) - Some severe threat will persist from a portion of
the OH Valley, the Northeastern States and Carolinas as cyclone
occludes over the Great Lakes, but trailing front continues toward
the Atlantic seaboard. At this time, it remains uncertain whether
instability will be sufficient for a more robust severe event.